Complete systems and arrays usually ship within 2-3 business days via USPS Priority Mail, usually arriving within 2-3 days anywhere in USA and usually 7-10 days (or less) to Canada! 
Contact us directly for shipping costs to other countries, we DO ship worldwide, if services are available to your destination!
Welcome to the Ionic Body Balancer… Your choice for the most effective ionic detox foot bath available!
Ionic Balancer was founded in 2004 with the purpose of seeking an improved method to the ionic detoxification process after purchasing a unit for a family member. Today, we are still dedicated to providing the highest quality detoxification unit at an affordable price. We provide unlimited telephone support at no charge to the customer. We are based in Arizona, USA and sell this system worldwide.
NOTE: For orders to Canada and international, individual arrays are shipped unassembled to reduce shipping costs and will need to be assembled for use, instructions are included.
Our systems are Made in the USA.
Call or Text us today: 520-330-2686
Or use the Contact Us form from the main menu above.
We put our customers first!
Come visit to see what we are all about:
Cutting Edge Technology
Fast Shipping
Quick, Responsive, with World-Class Customer Service
Offering the Most Powerful and Advanced System on the Market
We ship worldwide
________________________________________________________________
The Ionic Body Balancer™ provides a highly effective DRUG FREE Therapy cleansing and stimulation the Lymph System allowing it to maximize T-Cell production for the Immune System. Think of it as weight training for your Immune System!
Ionic Cleansing: 3 things you need to know!
Cleansing your body using Ionic energy is the least invasive and most effective method that gently relieves stressors in the body that have been shown to cause any type of illness.
Ionic cleansing creates a feeling of well being throughout the entire body for many people.
Ionic cleansing and colon cleansing are important keys to Wellness and Fighting Disease, by helping the body remove toxins and free radicals.
Why should I cleanse using your system?
Today most of the food, air and water we drink carries some form of toxins. Even if you are eating an organic or raw diet and drinking filtered water there are many toxins that have become part of our daily environment. These toxic elements stressors build up over time causing a number of health related issues. Decreasing the toxic load in your body will only improve the quality of your life.
Interesting Revelation!
In an October 2006 National Geographic article a person in his 30's in physically excellent condition was tested for heavy metals, chemical residues and a variety of toxins. He and the doctors were amazed what these tests revealed. I invite you to find the article and read for yourself what those tests determined, further substantiating the need for ionic cleansing with our system.
A Short List of Benefits
Re-balance, renew, and cleanse the entire organ system of your body. Eliminate most toxic substances stored in your cells, muscles and fat. Increase your energy, oxygen levels, vibrancy for life and more. Many clients have reported that they feel they have decreased their chances of becoming terminally ill.
We are REALISTS!
We never want you believe that there is any equipment that will cure you. You repair yourself utilizing a conscious, balanced approach to life which includes diet, exercise a positive mental outlook, detoxification and more.
The Ionic Body Balancer™ is a tool that makes it easier for you to move from dis-ease to wellness w/ ease in as little as 30-45 minutes session twice per week.
Ionic fields relieve The Stressors  in your body
At our home we have 2 units for our family. We use them every 2-3 days. Some of the benefits we have experienced have been that we all require less sleep! We have more energy! We don't crave sweets and simply, we have an improved quality of Life! Are these benefits of interest to you? All it takes is 30-45 minutes 2 times a week.
Candida and Fungus are the two most insidious Stressors to human health and well being. Candida and Fungus create depression, headaches, brain fog, feeling lethargic, itching and ringing in the ears, sugar cravings, chronic fatigue, cold hands and feet, gas and more!!! If you identify with three or more of these symptoms, you should detoxify immediately! Don't you agree?
With the Ionic Body Balancer, you will begin to feel better FAST.
 For some users, the experience is subtle for others profound. Either way over time, you will be much farther ahead on your quest for better health. We Guarantee it!!! We have priced the Ionic Body Balancer™ so everyone can afford one.
Systems similar to the Ionic Body Balancer™ can sell for upwards of $3000 or more. We keep our marketing, sales, and overhead low, and pass the savings on to you!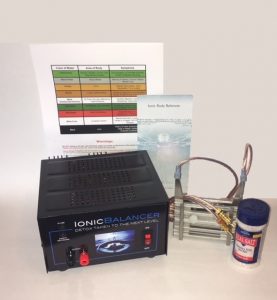 Our systems include everything you need to get started on the road to wellness (except the foot tub/basin).
Dare to Compare!!! Compare the Ionic Body Balancer™ to other systems and you'll be convinced that we offer the best value, most efficient system for the money.
Disclaimer:  This is NOT to be considered a "Medical Device" and no implication or claims are made regarding the healing of any medical problem. Important Warnings! People who have battery operated implants such as with pacemakers, defibrillators, cardiac patients or with other active medical devices should avoid use or seek the advice of their Physician before using this product. Pregnant women or nursing women should NEVER use this product! Children under the age of 12 should not use without parental consent and supervision. People who have low blood pressure should eat before use. Anyone who has received an organ transplant should NEVER use this type of product. People who suffer from severe heart disease that are on medication all the time should not use without the advice of their Physician. People who suffer from high blood pressure that are on medication all the time should not use without the advice of their Physician. After using the Ion-cleanse machine, supplement vitamins, minerals, fatty acid and other nutritional substances in order to improve the body metabolism and stimulate the body for self-detoxification. Do not touch power device while your hands are wet. Never submerge the power device under water, only the ionizer array goes into the water. Avoid striking the machine or dropping it in any way. LEGAL DISCLAIMER: THIS SYSTEM DOES NOT CLAIM TO CURE OR TREAT ANY DISEASE OR INJURY. IT ASSISTS YOUR BODY TO RE-BALANCE ITS BIO-ENERGY FIELDS AND STIMULATES THE BODY FOR SELF-DETOXIFICATION. THE BODY'S ORGANS WILL NATURALLY FUNCTION BETTER WHEN THE ELECTROMAGNETIC FIELDS ARE CHARGED WITH IONIC ENERGY. IF YOU HAVE ANY CONCERNS, PLEASE CONSULT A PHYSICIAN BEFORE USING THIS PRODUCT.
Copyright 2005-2021 Ionic Body Balancer, All Rights Reserved